Quality
Policy
HI-LIFE is commited to manufacture & supply Grinding Machines as per customer requirements. The company aims to satisfy every expectation of its customers by providing them top grade products & services.
The HI-LIFE team is commited for effective compliance with it's Quality Management Systems (ISO 9001:2008 Standards). HI-LIFE aims to continually improve the quality of it's products & services thus enhancing customer satisfaction.
Effective leadership, teamwork & mutually beneficial relationship with suppliers will be the major drives in :
Achieving organizational objectives
Manufacturing Grinding Machines of International quality standards.
ISO 9000 Auditor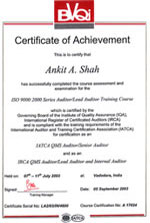 ISO 9001 : 2008 Certificate